The Best of Islands Philippines
THE PHILIPPINES stands at the crossroads of the developed western world and the Orient. It lies in the heart of Southeast Asia, stretching more than 1,840 kilometers. Composed of 7,107 islands, the Philippines is readily accessible to the different capitals of the world. Its three main islands are Luzon, Visayas and Mindanao.
The South China Sea washes its western shores. Taiwan, China and Hong Kong are northern neighbors and further north is Japan. To the west lie Southeast Asian countries such as Singapore, Malaysia and Thailand. An arm of the archipelago reaches out towards Borneo and at its feet stands the chain of Indonesian islands. To the east and south, the waters of the Pacific Ocean sweep its headlands, looking out towards Micronesia and Polynesia.
Its unique location has made the Philippines the commercial, cultural and intellectual hub of Asia from the dawn of history.
The Philippines in the world
THE PHILIPPINES is readily accessible from the travel capitals of the world. Traveling time to Manila from Hong Kong is an hour and 50 minutes; Singapore, 3 hours and 10 minutes; Bangkok, 3 hours and 50 minutes; Tokyo, 4 hours and 15 minutes; Sydney, 10 hours and 20 minutes; London, 20 hours and 45 minutes; Paris, 21 hours and 15 minutes; Frankfurt, 19 hours and 40 minutes; San Francisco, 16 hours and 15 minutes; Los Angeles, 15 hours and 20 minutes; and New York, 25 hours and 20 minutes.
FILIPINOS AT THEIR BEST
CHARICE PEMPENGCO (INTERNATIONAL SINGER/ACTRESS)
MANNY "Pacman" PACQUIAO (POND FOR POUND KING, 8 BOXING WORLD TITLE HOLDER)
LEA SALONGA (MISS SAIGON, INTERNATIONAL SINGER/ARTIST)
ARNEL PINEDA (JOURNEY/LEAD SINGER)
BEAUTY QUEENS - TITLE HOLDERS
Angela Perez Baraquio - Miss America - the 25-year-old Physical Education teacher was crowned Miss America in October 2001 in Atlantic City, New Jersey, replacing former title holder, Heather Renee French of Kentucky. Angela is the first Asian American to win the Miss America title, and the second Miss Hawaii to win Miss America, after Carolyn Sapp won it in 1992.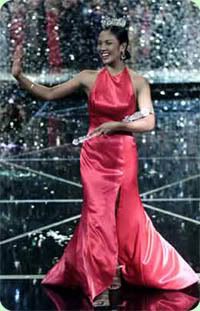 Gloria Diaz - Miss Universe 1969
Miss Margarita Moran Miss Universe 1973.
Gemma Cruz - Miss International 1964
Aurora Pijuan - Miss International 1970
Melanie Marquez - Miss International 1979.
Pilar Pilapil - Miss Universe Title