1)Night at the Museum 2
Plot Summary: In bringing the Smithsonian museum to life, sequel also will introduce historical figures to the franchise, including Amelia Earhart.
2) Ice Age: Dawn of the Dinosaurs
Plot Summary: Manfred, Sid and Diego return for another adventure in "Ice Age 3."
3)Harry Potter and the Half-Blood Prince
Plot Summary: Voldemort is tightening his grip on both the Muggle and wizarding worlds and Hogwarts is no longer the safe haven it once was. Harry suspects that dangers may even lie within the castle, but Dumbledore is more intent upon preparing him for the final battle that he knows is fast approaching. Together they work to find the key to unlock Voldemort?s defenses and, to this end, Dumbledore recruits his old friend and colleague, the well-connected and unsuspecting bon vivant Professor Horace Slughorn, whom he believes holds crucial information. Meanwhile, the students are under attack from a very different adversary as teenage hormones rage across the ramparts. Harry finds himself more and more drawn to Ginny, but so is Dean Thomas. And Lavender Brown has decided that Ron is the one for her, only she hadn?t counted on Romilda Vane?s chocolates! And then there?s Hermione, simpering with jealously but determined not to show her feelings. As romance blossoms, one student remains aloof. He is determined to make his mark, albeit a dark one. Love is in the air, but tragedy lies ahead and Hogwarts may never be the same again."
4)Pink Panther 2
Plot Summary: Inspector Jacques Clouseau (Martin) teams up with a squad of European detectives who are just as bumbling as he is. Their mission: stop a continent-wide crime wave.
5)UP
Plot Summary: A comedy adventure about 78-year-old balloon salesman Carl Fredricksen, who finally fulfills his lifelong dream of a great adventure when he ties thousands of balloons to his house and flies away to the wilds of South America. But he discovers all too late that his biggest nightmare has stowed away on the trip: an overly optimistic 8-year-old Wilderness Explorer named Russell.
6)fast and furious 4
Plot Summary: When a crime brings them back to L.A., fugitive ex-con Dom Toretto (Diesel) reignites his feud with agent Brian O'Conner (Walker). But as they are forced to confront a shared enemy, Dom and Brian must give in to an uncertain new trust if they hope to outmanuever him. And from convoy heists to precision tunnel crawls across international lines, two men will find the best way to get revenge: push the limits of what's possible behind the wheel.
7)wolverine
Plot Summary: Leading up to the events of "X-Men," "X-Men Origins: Wolverine" tells the story of Wolverine's epically violent and romantic past, his complex relationship with Victor Creed, and the ominous Weapon X program. Along the way, Wolverine encounters many mutants, both familiar and new, including surprise appearances by several legends of the X-Men universe.
8) Terminator Salvation
Plot Summary: In the highly anticipated new installment of The Terminator film franchise, set in post-apocalyptic 2018, Bale stars as John Connor, the man fated to lead the human resistance against Skynet and its army of Terminators. But the future Connor was raised to believe in is altered in part by the appearance of Marcus Wright (Worthington), a stranger whose last memory is of being on death row. Connor must decide whether Marcus has been sent from the future, or rescued from the past. As Skynet prepares its final onslaught, Connor and Marcus both embark on an odyssey that takes them into the heart of Skynet's operations, where they uncover the terrible secret behind the possible annihilation of mankind.
9)transformer
Plot Summary: Optimus Prime and the rest of the Autobots return for the live action follow up to Michael Bay's 2007 blockbuster "Transformers."
10) Star Trek
Plot Summary: Will center on the early days of seminal "Trek" characters James T. Kirk and Mr. Spock, including their first meeting at Starfleet Academy and first outer space mission
11)Watchmen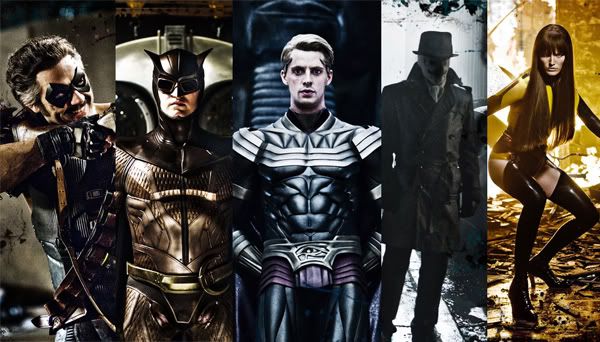 Plot Summary: A complex, multi-layered mystery adventure, "Watchmen" is set in an alternate 1985 America in which costumed superheroes are part of the fabric of everyday society, and the "Doomsday Clock" - which charts the USA's tension with the Soviet Union - is permanently set at five minutes to midnight. When one of his former colleagues is murdered, the washed-up but no less determined masked vigilante Rorschach sets out to uncover a plot to kill and discredit all past and present superheroes. As he reconnects with his former crime-fighting legion - a ragtag group of retired superheroes, only one of whom has true powers - Rorschach glimpses a wide-ranging and disturbing conspiracy with links to their shared past and catastrophic consequences for the future. Their mission is to watch over humanity...but who is watching the watchmen?
This post has been edited 7 times. The last edit took place 07.01.09, 13:00.